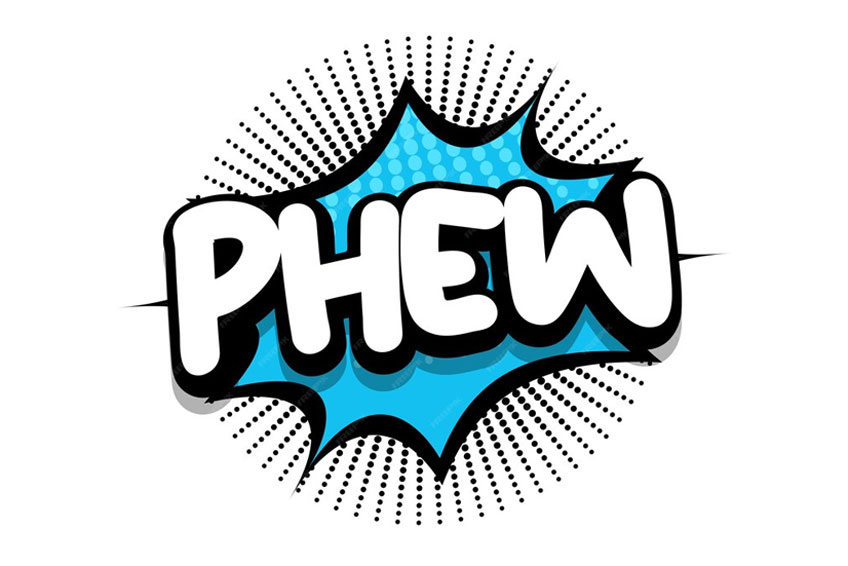 Welcome back to dental care! If it feels like ages since your last dental visit, you're in good company. We understand that returning to the dentist might seem overwhelming, but don't worry. Here's what you can do…
read more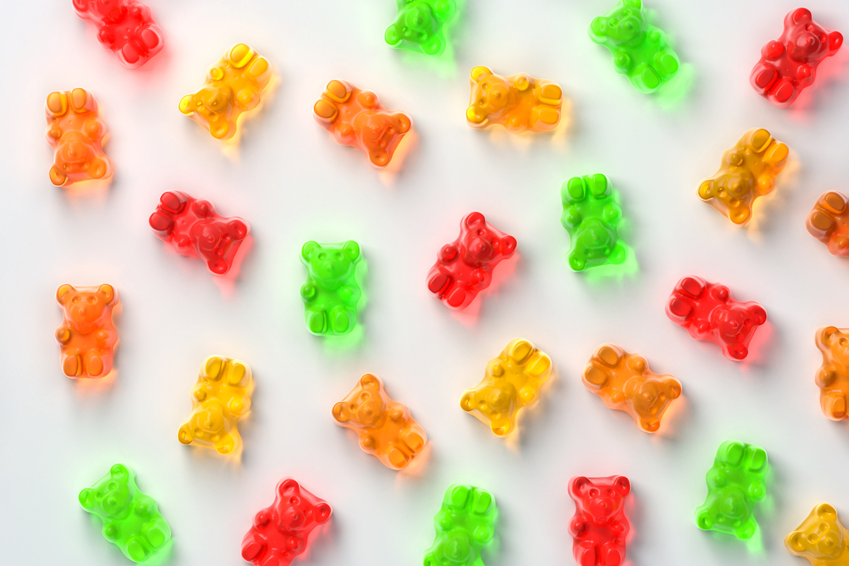 What dental procedure can save the day in so many situations? Find out more about crown-lengthening and how it just might do some great things for your smile…
read more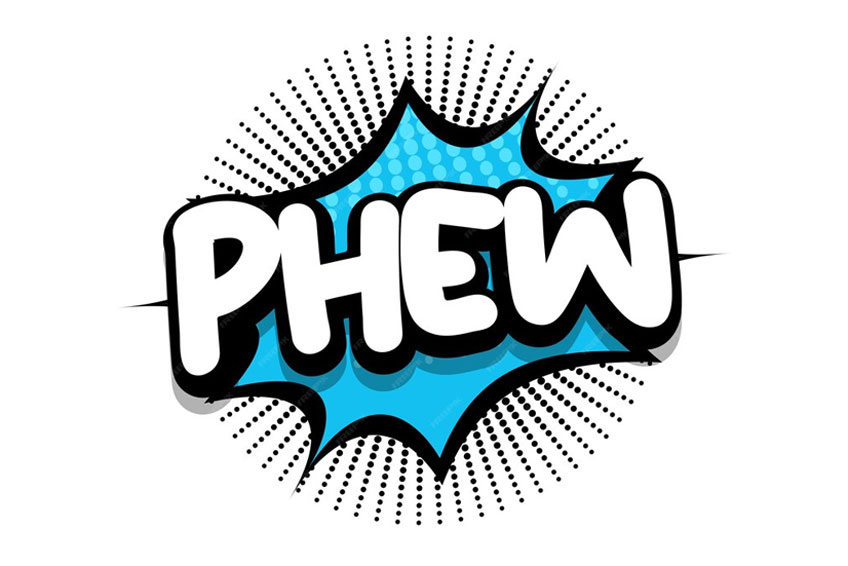 Welcome back to dental care! If it feels like ages since your last dental visit, you're in good company. We understand that returning to the dentist might seem overwhelming, but don't worry. Here's what you can do…
read more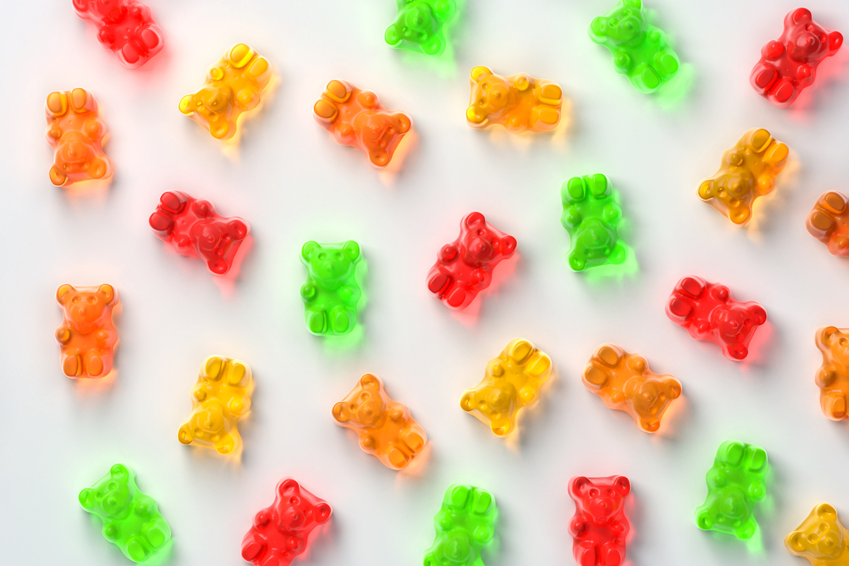 What dental procedure can save the day in so many situations? Find out more about crown-lengthening and how it just might do some great things for your smile…
read more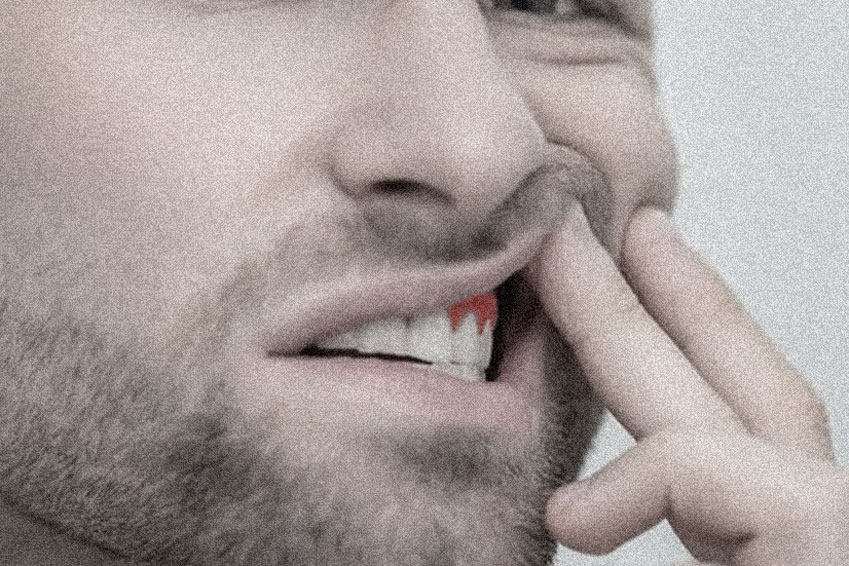 You leave your dinner companion, and head to the rest room to check yourself out in the mirror. Nope, you don't have any soufflé stuck to your front teeth, but what's this? Your gums are a bit, well … red and sore!
read more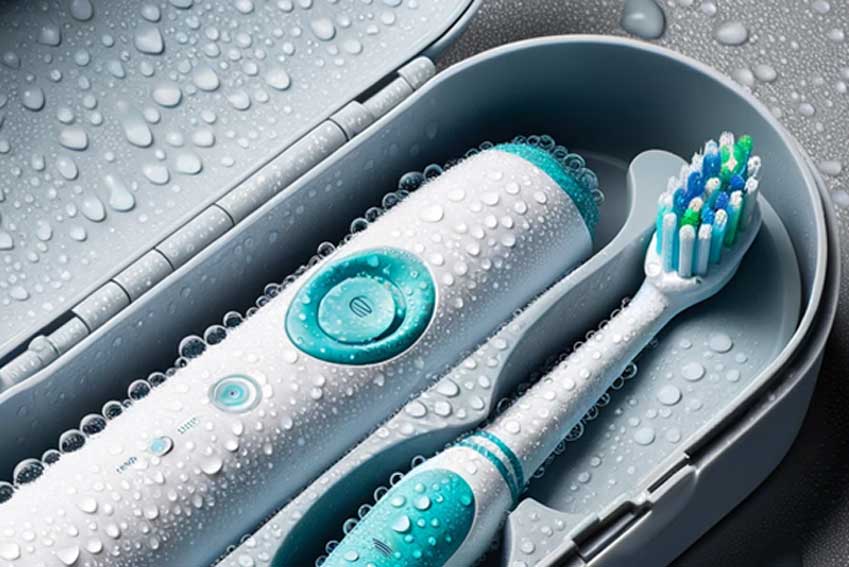 Why'd we choose this electric toothbrush to highlight our post on common oral care missteps? Click on the post and find out. Our suggestions could mean a healthier, shinier smile for you and the fam…
read more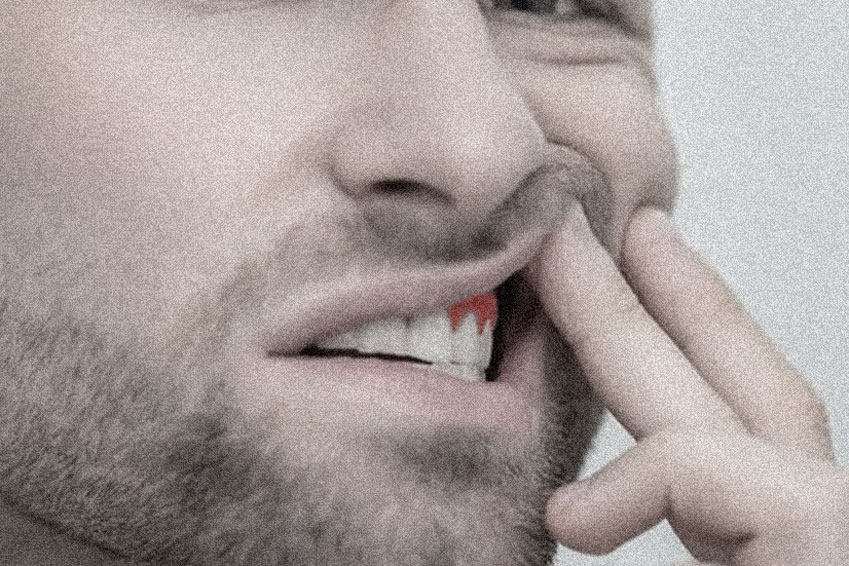 You leave your dinner companion, and head to the rest room to check yourself out in the mirror. Nope, you don't have any soufflé stuck to your front teeth, but what's this? Your gums are a bit, well … red and sore!
read more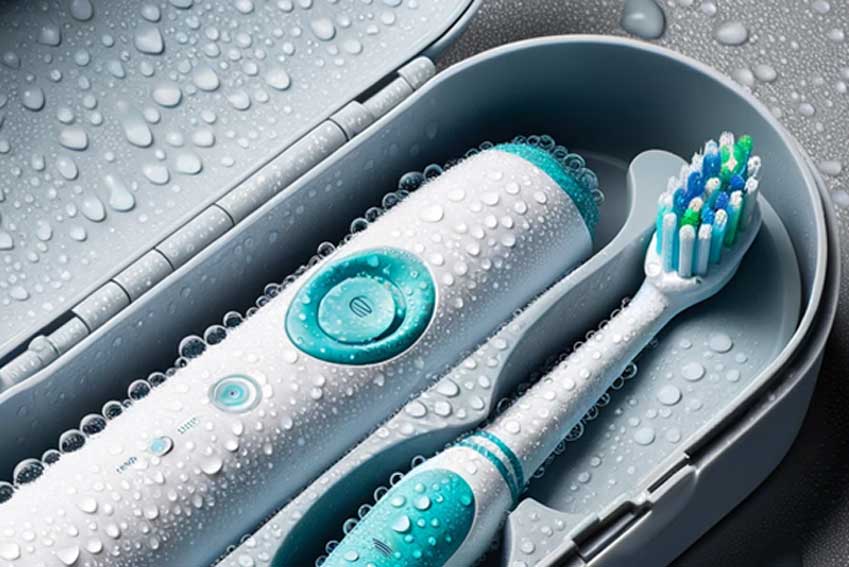 Why'd we choose this electric toothbrush to highlight our post on common oral care missteps? Click on the post and find out. Our suggestions could mean a healthier, shinier smile for you and the fam…
read more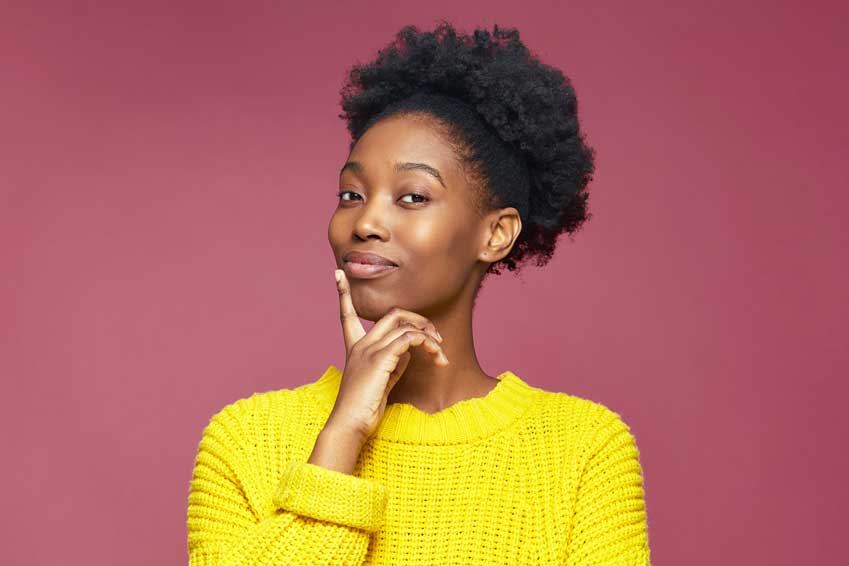 Need to improve your smile? Not sure you have the budget? Here are four cosmetic dental treatments that can improve your looks but won't empty your bank account.
read more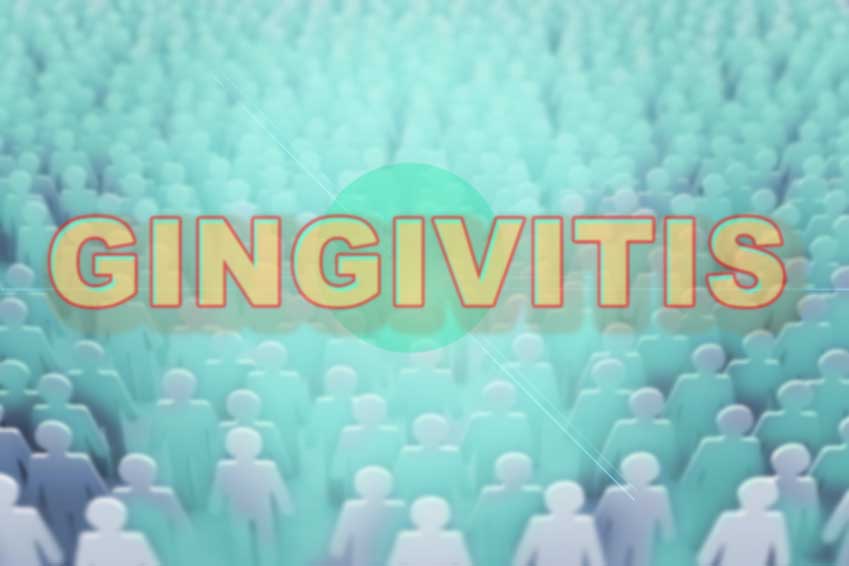 Gingivitis, also known as gum disease, is a very common condition that can lead to more serious health issues including heart disease. Find out more about gingivitis and what you can do to stop it…
read more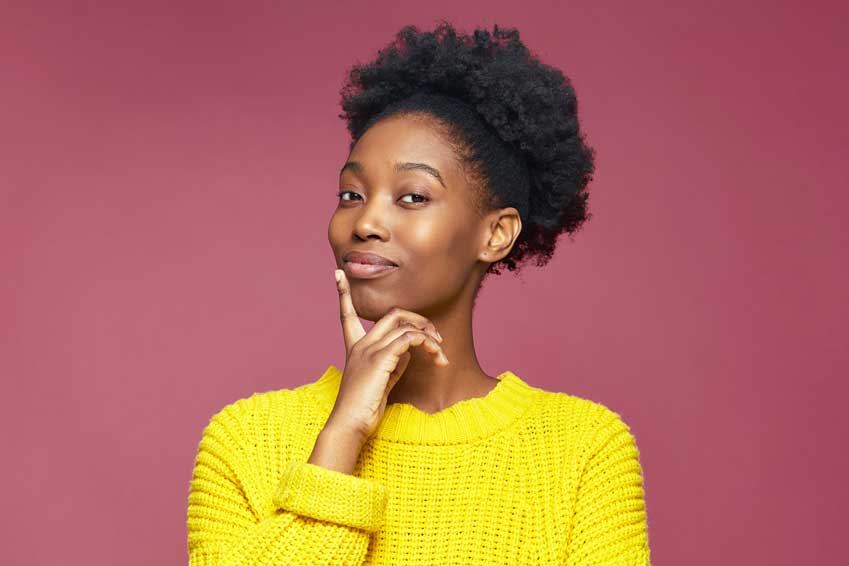 Need to improve your smile? Not sure you have the budget? Here are four cosmetic dental treatments that can improve your looks but won't empty your bank account.
read more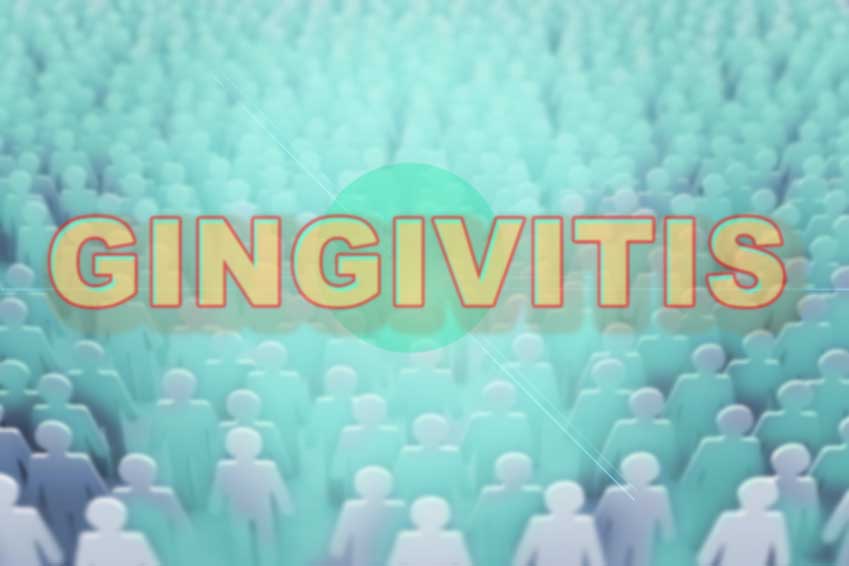 Gingivitis, also known as gum disease, is a very common condition that can lead to more serious health issues including heart disease. Find out more about gingivitis and what you can do to stop it…
read more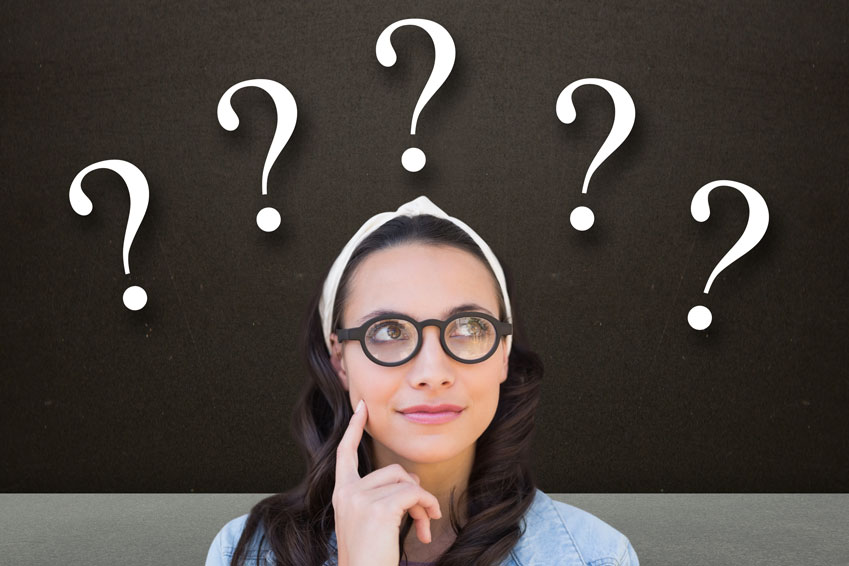 Are you satisfied with your smile? It seems that every celebrity has a perfect, dazzling set of teeth, but few people in the real world are that lucky.
Even with the best dental care, teeth can become stained and damaged over the years, leading to a smile that might easily cause some insecurity. And if you're scared to smile, you just might not smile too often.
Somewhere, out there…
The dentistry marketplace abounds with solutions to give you a brighter smile. These include dental crowns, in-home and in-office whitening, mouthwashes and toothpastes, and home remedies, many of them questionable. It is often best to consult with your dentist, to decide on the best strategy, given the current condition of your smile and your budget.
One option to seriously consider is the dental veneer. Veneers are thin, customized slivers of ceramic, porcelain or other material that your dentist affixes to your existing teeth. Think of them as the dental equivalent to faux fingernails.
Dental veneers do a number of things very well…
Match the color of the treated tooth to your other teeth
Hide stains that degrade your smile
Cover up chips and other cosmetic damage
How does it work?
Fitting dental veneers is a simpler procedure compared with dental crowns. It usually takes just two visits to the dentist.
In the first appointment, the dentist will take a mold of your teeth, and use color guides to find the desired shade. The dentist's lab then uses the molds and information to fashion the veneers. Once completed, the dentist can permanently affix them to your teeth using a safe, effective adhesive.
The veneers are then shaped to create the look you want. There is little or no discomfort, no dangerous chemicals, and a lot less expense than other whitening treatments.
Ask your dentist about dental veneers!
There are circumstances where veneers might not be the right solution. Veneers cannot be applied to teeth that are unhealthy, for example. Consult with your dentist to find out the others.
If you're looking for a more consistent smile, improved smile, ask us about dental veneers. They just might produce the results you are seeking.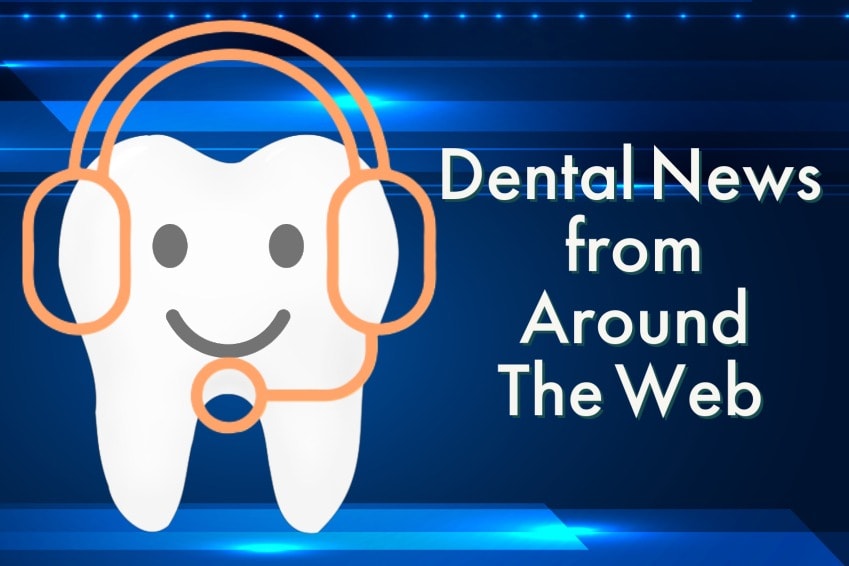 In this month's roundup, ways to make your oral surgery experience less nerve-wracking – the mystery behind dental biorhythms revealed – and the effects of space flight on your teeth. Plus, just what you were waiting for, the complete guide to receding gums. Enjoy!
read more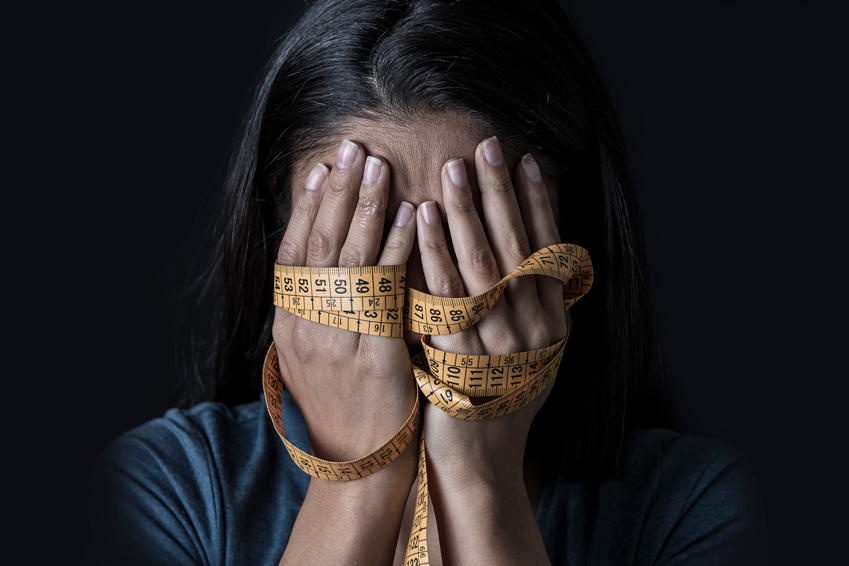 At least 30 million people suffer from eating disorders.
Most people know that eating disorders such as anorexia nervosa and bulimia can seriously impact the general physical and mental health of their victims – but that's not all…
Because of the way eating disorders can deprive the body of nutrients, and erode the surface of the teeth, they are strongly implicated in oral health as well.
Let's take a look at the damage eating disorders can cause to teeth and gums…
Anorexia: Decreased Nutrient Intake Weakens Teeth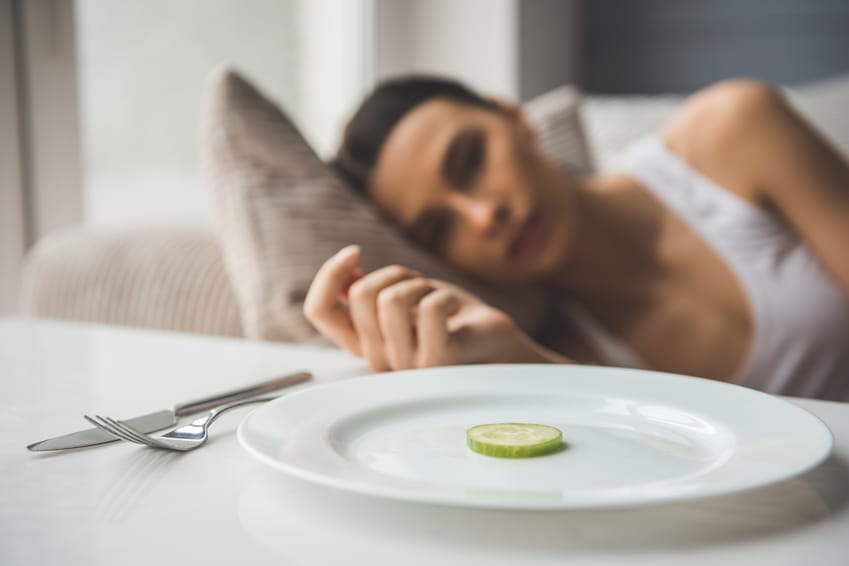 With anorexia nervosa, sufferers restrict their daily calories to the point where they are not receiving enough nutrients, thus affecting oral health.
For teeth to remain healthy, an individual needs foods with sufficient iron, Vitamin B and calcium. Without these vital nutrients, teeth can decay while the risk of gum disease increases.
Iron deficiency can lead to open sores in the mouth, while B3 deficiency can lead to canker sores. Without adequate calcium and Vitamin D, you are liable to suffer tooth decay. Often, gingivitis, or swelling of the gums, develops.
In addition, anorexia patients often suffer from dehydration, which can cause dry and painful mouth tissue and lips.
Bulimia Nervosa: Acid from Purging Damages Teeth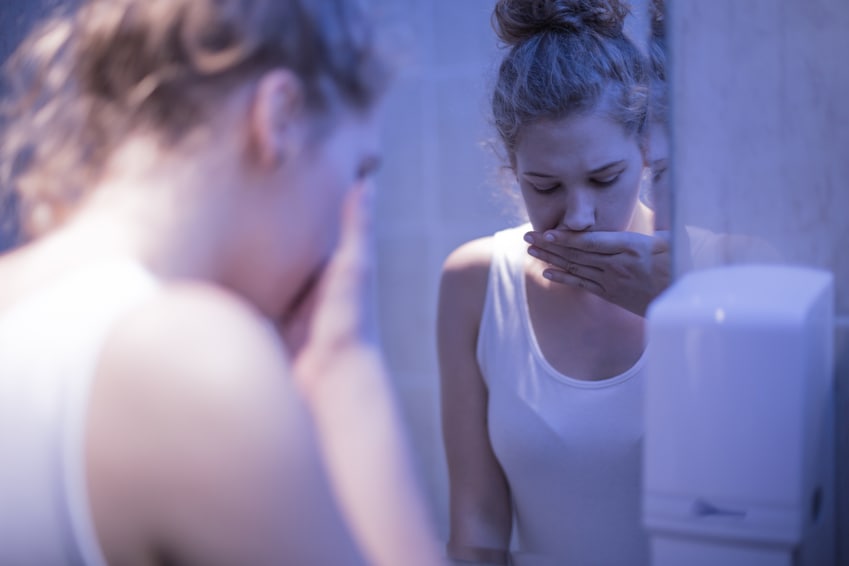 Patients with the purging type of bulimia nervosa will eat food and then try to vomit. According to studies, the "most extensive" oral health issues are associated with the effects of bulimia.
With the frequent vomiting, teeth come into frequent contact with stomach acid. This can break down the enamel quickly, and lead to teeth that are brittle and translucent.
Vomiting is traumatic not only for teeth, but for the inside of the patient's mouth, which can become red, cracked and cut with the constant exposure to acid.
Occasionally, patients who purge will over-brush their teeth to compensate, which can also cause damage to enamel.
Bulimia has been associated with degenerative arthritis in the TMJ (temporomandibular joint) of the jaw, which can cause extreme pain and discomfort, in addition to chronic headaches.
Chewing and Spitting Disorder: Damaging Digestive Acids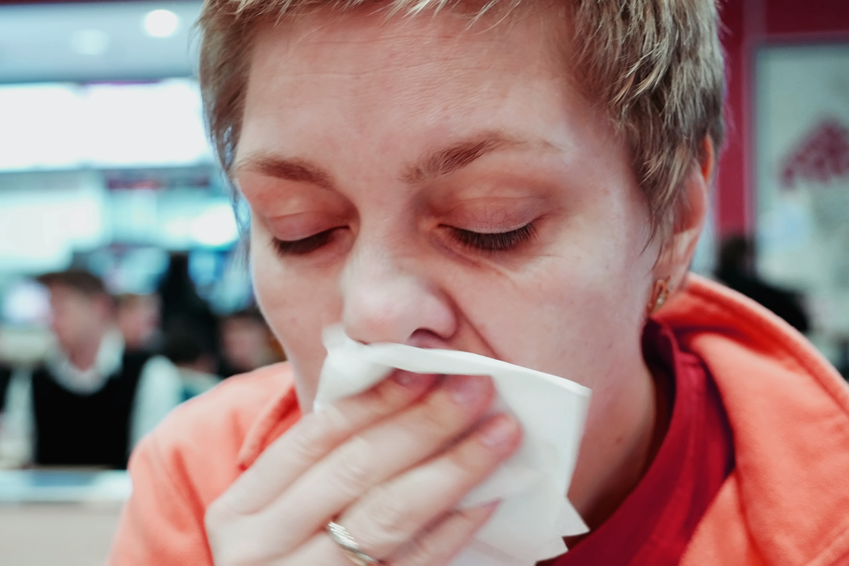 Though not as well known as anorexia and bulimia, Chewing and Spitting Disorder can be quite harmful to oral health as well. In CHSP, patients will chew food and then spit it out without swallowing it. They will not receive nutrition from the food, and a few processes will result in heightened tooth decay.
First of all, CHSP sufferers will often chew food that is high in sugar, which accelerates tooth decay in general.
Secondly, when people chew, the brain send signals to the digestive system to prepare acids for digestion. When the food is spit out instead of swallowed, the acid can lead to ulcers in the stomach and mouth. CHSP is linked to tooth decay, cavities and swollen glands.
How to Protect Teeth and Reverse Damage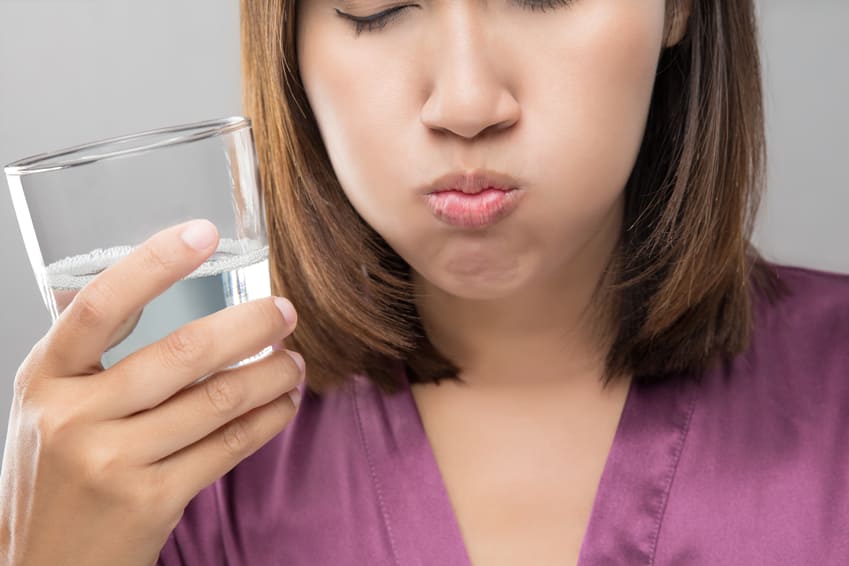 More than anything, it's important for those suffering from eating disorders to seek help from trained mental health professionals who can help them recover. During recovery, experts recommend the following:
Rinse mouth with water after every purging episode to decrease the danger of enamel-decay from acid.
Use a re-mineralizing agent like sodium fluoride gel (9) to help build the enamel back up on the teeth.
Wait an hour after purging to brush teeth, as brushing teeth immediately might actually scrub the acids deeper into the enamel.
See a dental health professional frequently while in recovery to check up on teeth. Dentists may also be able to apply topical fluoride treatment to halt further decay.
Though eating disorders can wreak havoc on oral health, there is hope for sufferers. The first step is seeking mental health guidance to treat the eating disorder.
With both a mental health and a compassionate dental team, those afflicted with eating disorders can regain their physical, mental, and oral stability.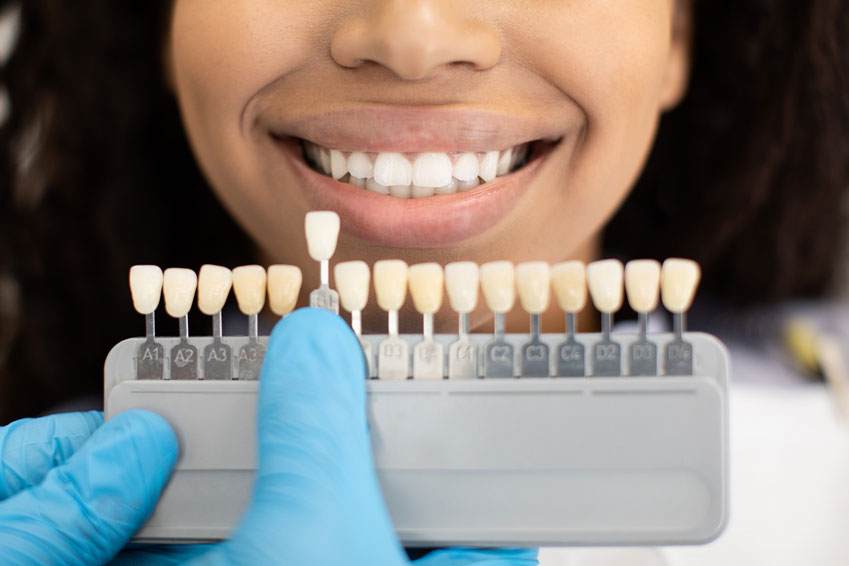 Dental veneers have become a popular cosmetic dentistry option for many individuals seeking to improve the appearance of their smile.
If you're considering getting veneers, you might have some questions about the procedure, benefits, and potential risks. Here are the top 10 commonly asked questions about dental veneers, along with their answers: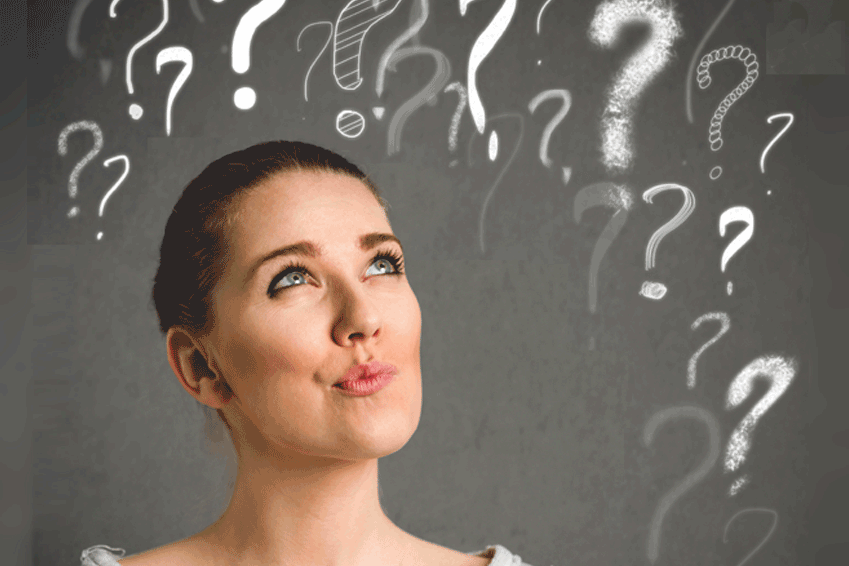 Q1. So, what are dental veneers, anyway?
A: Dental veneers are thin shells made of porcelain or composite resin that are custom-made to fit over the front surface of a tooth. They are primarily used to improve the appearance of discolored, chipped, or misaligned teeth.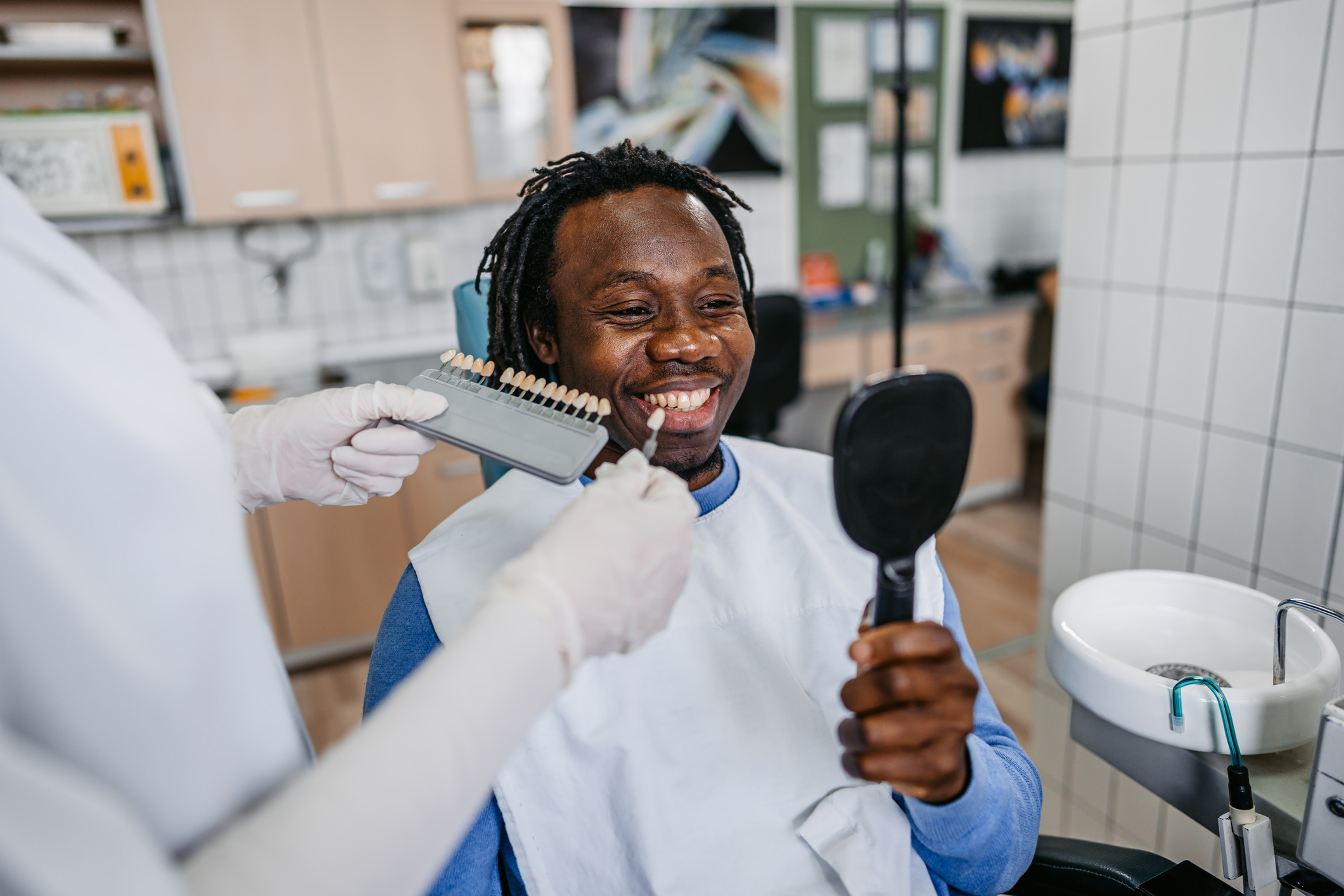 Q2. How long do dental veneers last?
A: On average, porcelain veneers can last between 10 to 15 years, while composite resin veneers tend to last between 5 to 7 years. The lifespan of veneers can vary based on oral hygiene practices and other factors.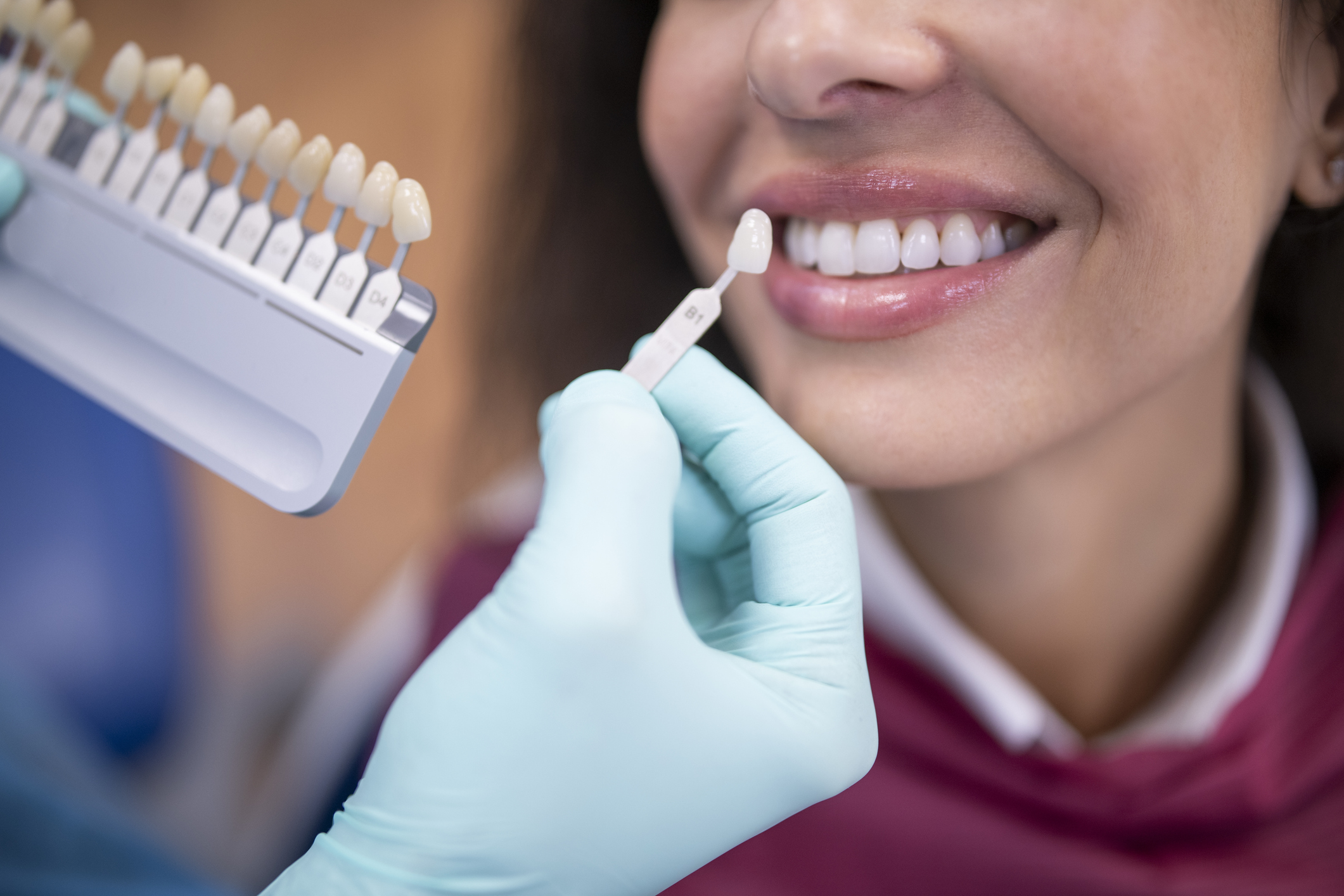 Q3. Are dental veneers reversible?
A: No, the veneer procedure is not reversible because a small amount of enamel is removed from the tooth's surface to accommodate the veneer. Once the enamel is removed, it cannot be replaced.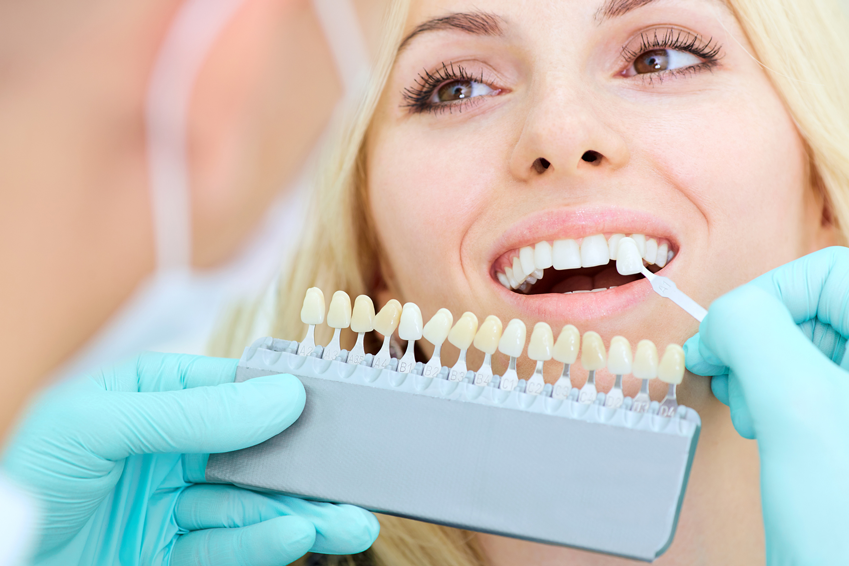 Q4. Do veneers look natural?
Answer: Yes, when properly designed and fitted, veneers can look very natural. They are made to match the color, shape, and size of your natural teeth.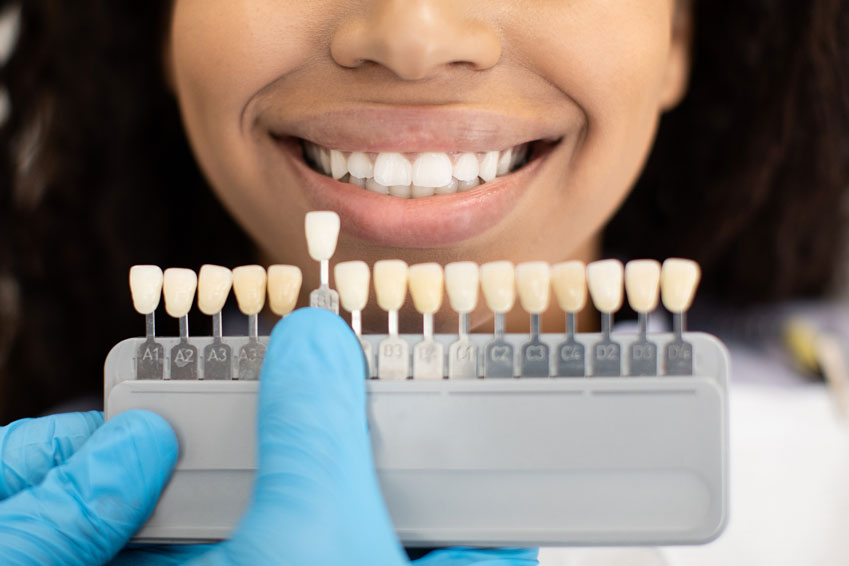 Q5. Are there any risks associated with dental veneers?
A: Some potential risks include tooth sensitivity due to enamel removal, potential damage or cracking of the veneer, and mismatched color between the veneer and natural teeth. It's essential to discuss any concerns with your dentist.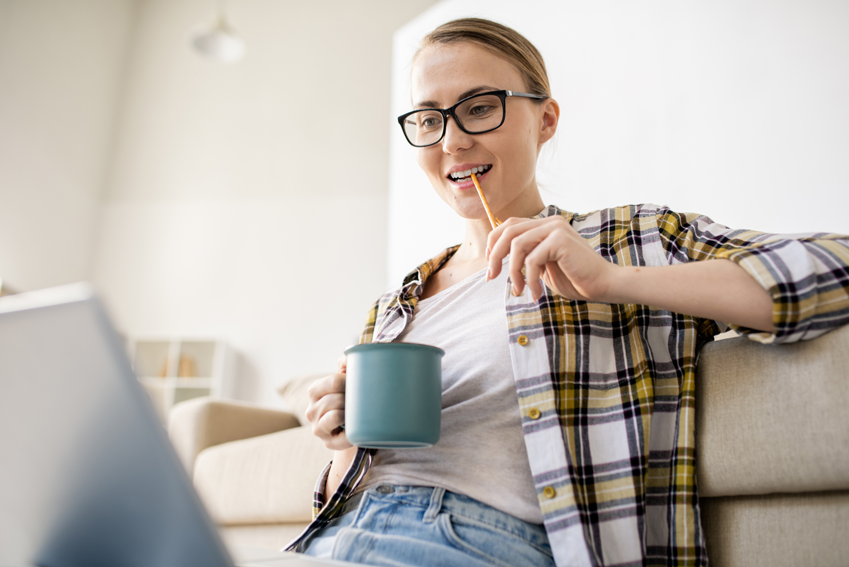 Q6. How do I care for my veneers?
A: Care for veneers is similar to natural teeth. Regular brushing, flossing, and dental check-ups are essential. Avoiding hard foods and not using teeth as tools can also prolong the life of veneers.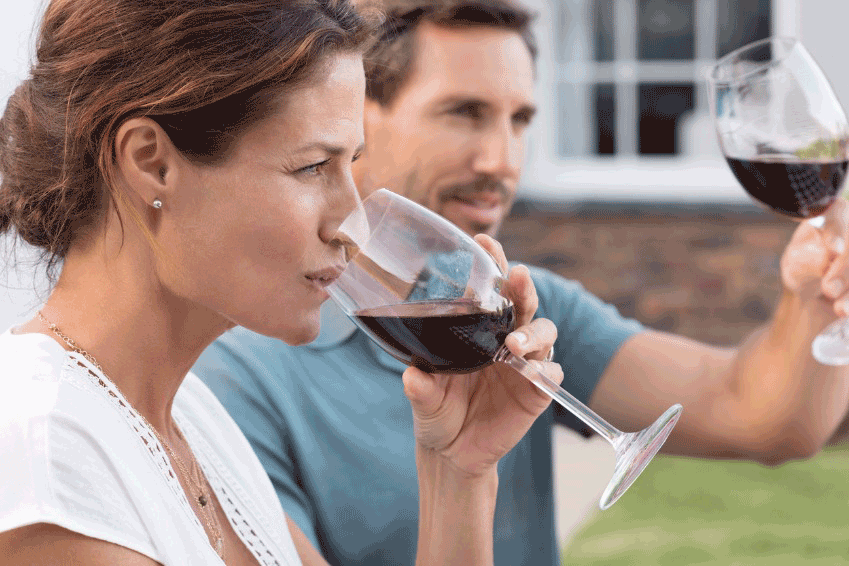 Q7. Can veneers stain or discolor?
A: Porcelain veneers are resistant to staining. However, the bonding material used to attach the veneer can stain, so it's essential to avoid excessive consumption of stain-causing foods and drinks.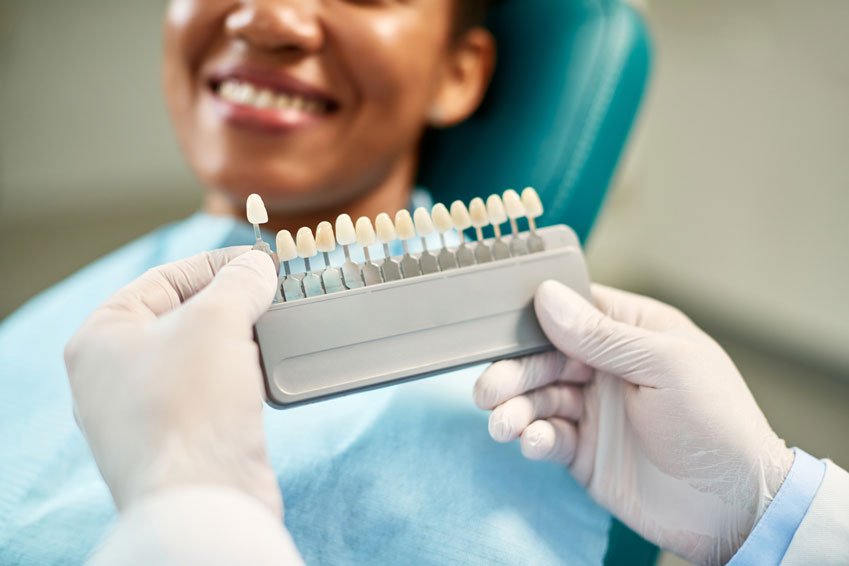 Q8. How much do dental veneers cost?
A: The cost of veneers can vary based on location, the expertise of the dentist, and the type of material used. On average, porcelain veneers can cost between $925 to $2,500 per tooth, while composite veneers range from $250 to $1,500 per tooth.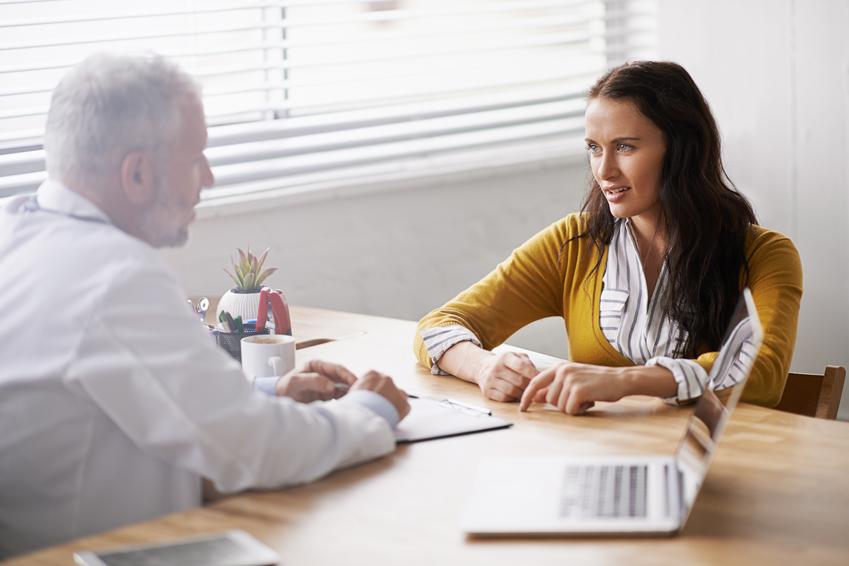 Q9. Are veneers covered by insurance?
A: Most dental insurance plans do not cover veneers as they are considered a cosmetic procedure. However, it's always a good idea to check with your insurance provider.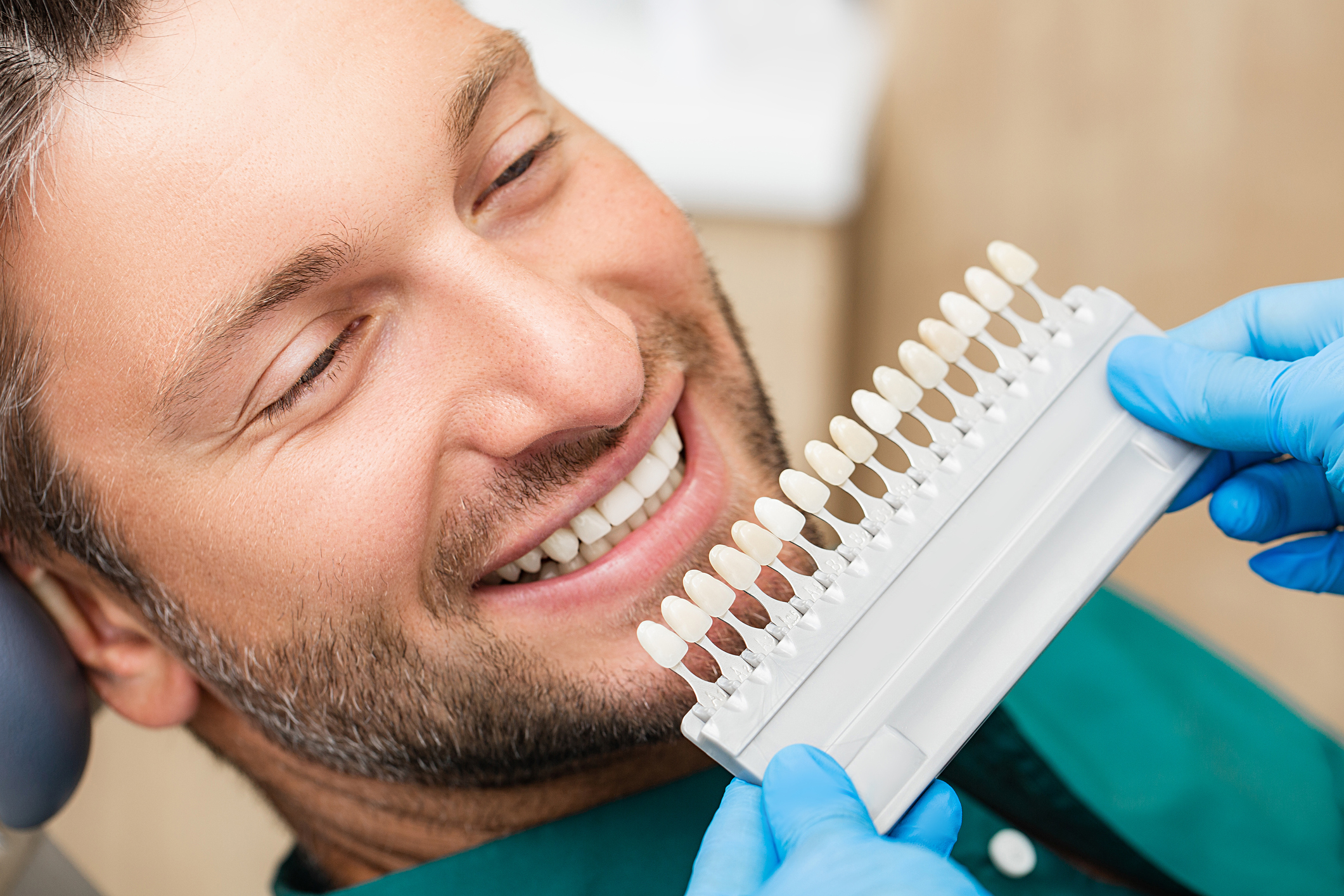 Q10. How long does the veneer procedure take?
Answer: Typically, the veneer procedure requires two visits. The first visit involves consultation and tooth preparation, while the second visit is for veneer placement. Each visit can last between 1 to 2 hours.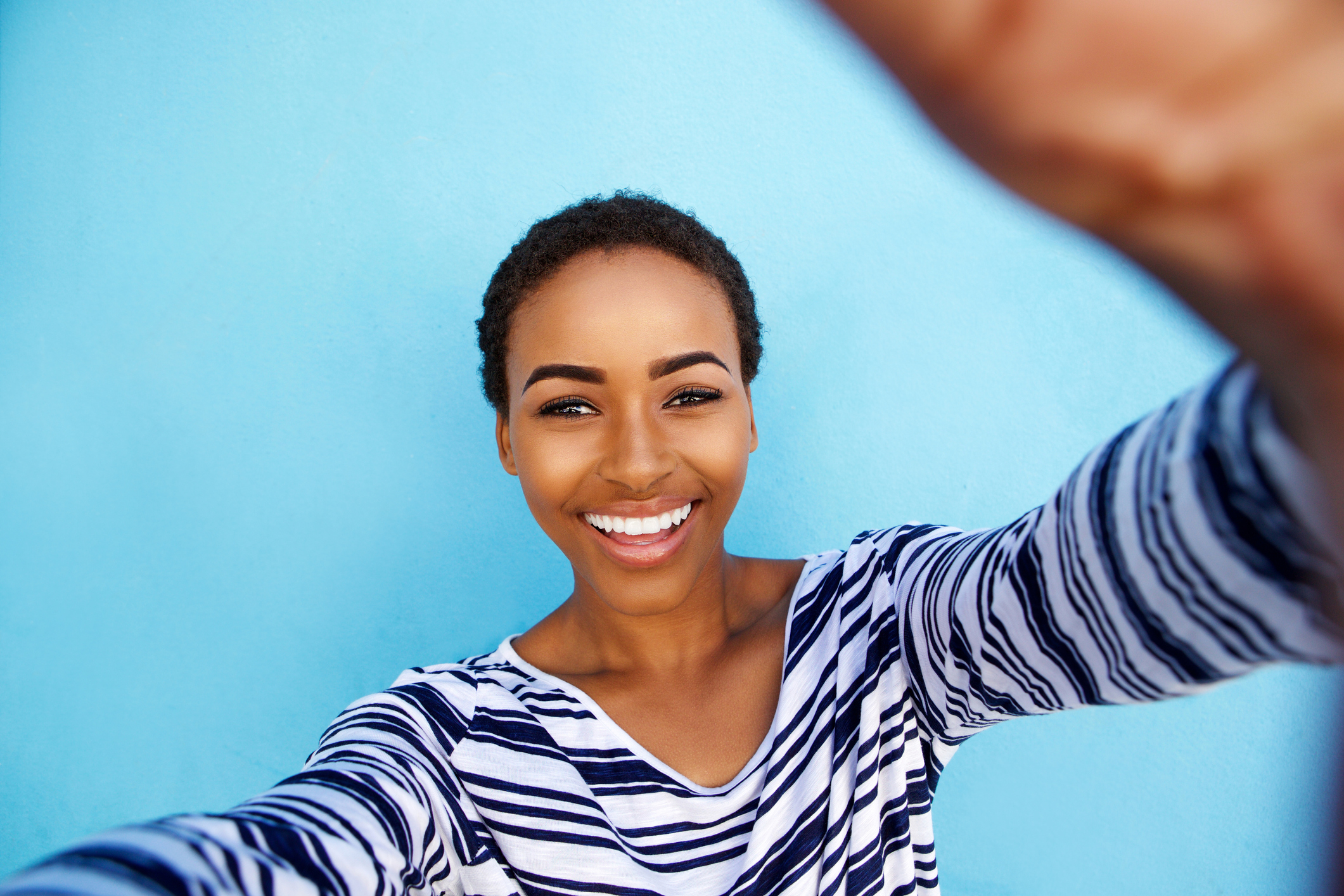 The Lowdown on Dental Veneers
Dental veneers offer a transformative solution for those seeking to enhance the appearance of their smile. Whether addressing discoloration, chips, or alignment issues, veneers provide a durable and natural-looking option. As with any dental procedure, it's crucial to be well-informed and understand both the benefits and potential risks.
Regular care and maintenance can ensure the longevity of your veneers, allowing you to smile with confidence for years to come. Always consult with a dental professional (that's us!) to determine if veneers are the right choice for your individual needs and to get a comprehensive understanding of the procedure.
Contact us soon about dental veneers!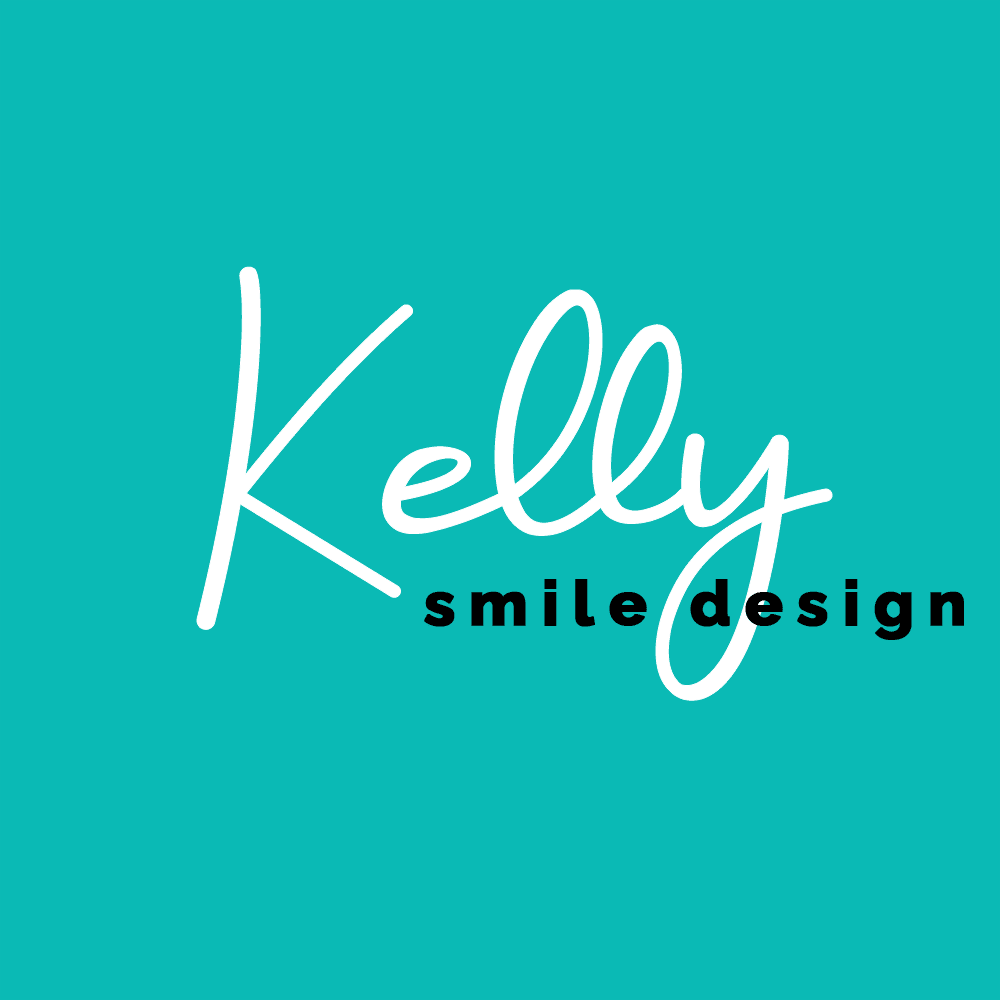 It's

Friday

10:12 AM

— We're currently closed, but please do contact us online, or leave a message. Thank you!
| | |
| --- | --- |
| Monday | 8:00 AM — 5:00 PM |
| Tuesday | 8:00 AM — 5:00 PM |
| Wednesday | 7:00 AM — 4:00 PM |
| Thursday | 7:00 AM — 4:00 PM |
| Friday | Closed |
| Saturday | Closed |
| Sunday | Closed |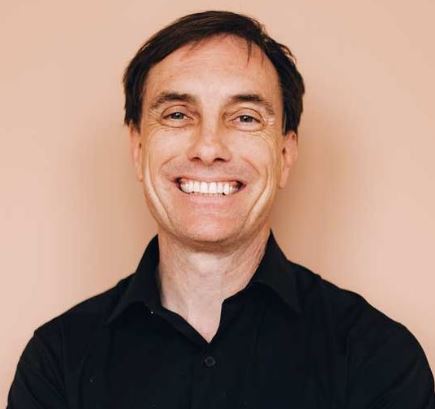 Chicago dentist, John J. Kelly, DDS, practices Restorative and Cosmetic Dentistry at his Chicago dental office in Edgebrook.
Healthy teeth are important for a healthy life, as studies have linked poor oral health with heart disease and other serious health problems.
Most people know the importance of reducing their sugar intake to maintain healthy teeth, but it's also essential to have a good oral health routine. Here are a few suggestions that you can follow, and also discuss with your dentist.

Use the Right Brushing Technique
Of course, brushing your teeth twice a day removes most of the plaque before it damages your teeth, but using the right brushing technique can also make a huge difference. Experts recommend setting a timer for two minutes, as this is how long it should take to clean your teeth effectively.
Dentists and other professionals advocate a variety of brushing techniques, but as a starting point, hold your toothbrush at a 45-degree angle, as this helps to clean under the gum line. Use small circular motions over the front, back and chewing surfaces to help reach all areas of your teeth.
Apply gentle pressure – avoid scrubbing too hard, as this can damage your tooth enamel and gums. Apply a little extra pressure when cleaning the chewing surfaces of your teeth, as these often contain crevices where food particles get stuck.

Choose the Right Tools
Manual and electric toothbrushes can be equally effective for keeping your teeth healthy, although electric toothbrushes can make the brushing process quicker and easier. Choosing the right head is more important than the type of toothbrush you use.
Look for soft or medium bristles rather than hard ones, as hard bristles can damage teeth and gums, sometimes leading to infection.
Choose a toothbrush with a head that is small enough to reach right to the back of your mouth.

Clean Inter-Dental Spaces
Food debris, plaque and bacteria can all gather and become trapped between the teeth. Cleaning between the teeth at least once a day is essential for good oral health. You can use inter-dental brushes, floss or floss picks (sometimes known as flossers or floss harps) to clean inter-dental spaces.
When using floss or floss picks, it's important to angle the floss so it wraps around the edges of the tooth. Use a gentle up and down motion to dislodge plaque from the tooth. Make sure to floss under your gum line, as this is where bacteria and plaque can thrive.
If you prefer to use inter dental brushes, use a back and forth motion around your gum line and remember to clean the brushes thoroughly after use. There are also other options, such as water flossing, for cleaning inter dental spaces, but they may not be suitable for everyone. Experiment with different techniques to find the right option for cleaning between your teeth.

Don't Forget Your Tongue
The surface of the tongue is an ideal place for bacteria to thrive as it's full of crevices and cracks where food particles and bacteria can hide. Bacteria on the tongue is also one of the most common causes of bad breath. Cleaning your tongue every day is just as important as brushing your teeth. Many toothbrushes include a tongue cleaner on the back of the brush, but you can also use a tongue scraper, or even the bristles of your toothbrush.
Whatever you use to clean your tongue, it's important to start at the back of your mouth and work forward in long strokes. Never start at the front of your tongue, as you risk pushing bacteria further back. Apply firm but gentle pressure to scrape bacteria from the back of your tongue and out of your mouth. If your tongue hurts or bleeds after cleaning, you are using too much pressure.

Avoid Alcohol-Based Mouthwash
Alcohol reduces the amount of saliva produced in the mouth, which can leave your teeth more vulnerable to plaque. If you use mouthwash regularly, check the ingredients, as many popular mouthwashes contain alcohol.
Most people don't need to use mouthwash, but if you like the fresh feeling of a minty rinse, opt for one that's alcohol-free. In addition, avoid using mouthwash straight after brushing, as it will wash away the fluoride protection of your toothpaste.

Protect Your Teeth While You Sleep
Saliva performs an important role in helping to neutralize and control bacteria in the mouth. However, saliva production is reduced while you're asleep, making it easier for harmful bacteria to thrive. Fluoride toothpaste can help by providing your teeth and gums with a protective coating.
Brushing your teeth last thing at night with a fluoride toothpaste will help to protect against bacteria while you're asleep. Spit out any excess toothpaste after brushing – but you may not want to rinse your mouth thoroughly, as you want to leave a thin film of fluoride on your teeth for as long as possible.

Don't Put Off The Dentist!
Finally, it's important to attend regular checkups with your dentist, as they will be able to spot the early warning signs of tooth decay, gum disease and even oral cancer. Your dentist will also be able to perform a deep clean to remove any plaque or tartar build-up on your teeth and around the gum line.
With this regimen in place, you'll be able to keep your bright smile for a lifetime.